Learn wherever you are!
Wokabulary syncs your words and your progress between your iPhone, your iPad and your Mac.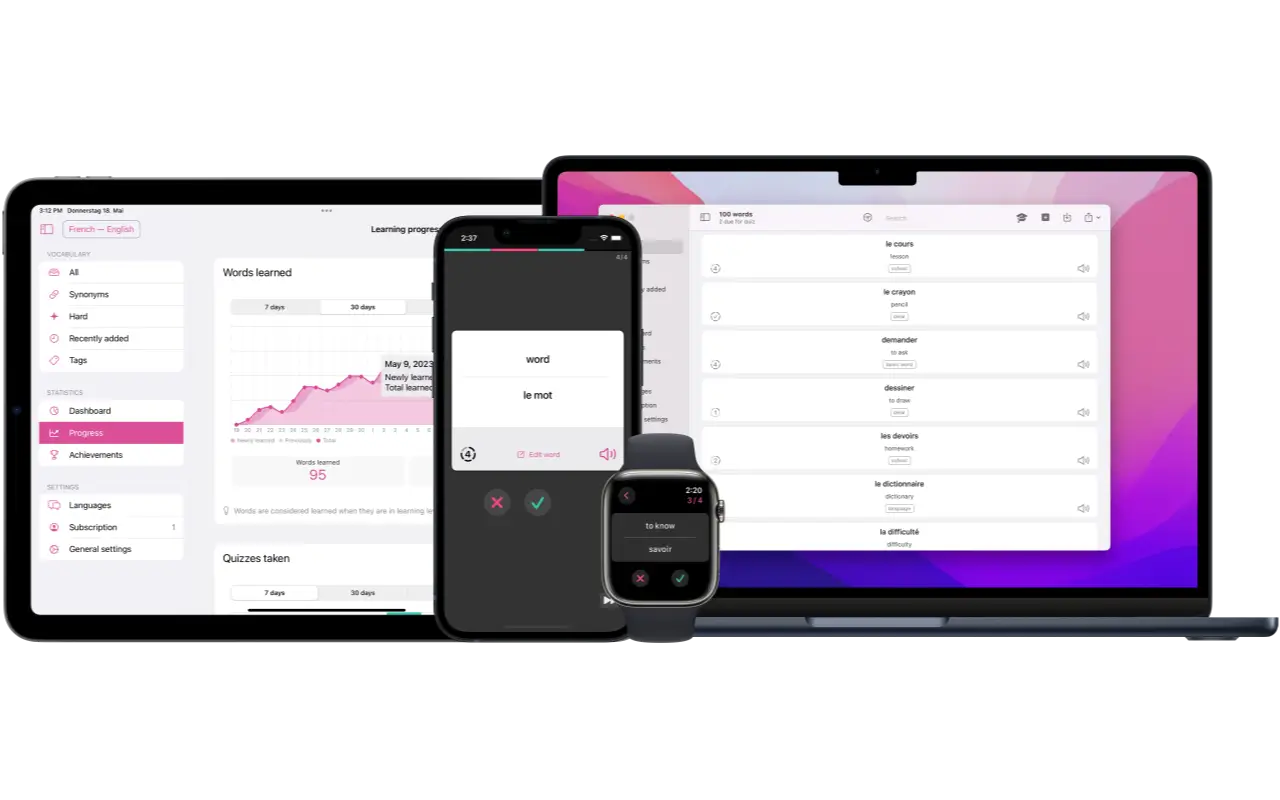 Individual and efficient vocabulary learning
Wokabulary is not a language course app.
Wokabulary is a versatile flash card learning tool that lets you manage and practise your own vocabulary.
---
Wokabulary can handle any foreign language and any alphabet. Easily manage multiple languages!
Words get automatically sorted in difficulty levels. New and difficult words are asked more often — old and easy words less often.
Powerful search and filters
Conveniently manage even large vocabularies with Wokabulary's tagging system and efficient search.
Get an overview of your progress, unlock achievements, and visualize your learning success!
Three quiz modes — flash card, typing, and listening — let you practice your words according to your individual learning preferences!
Import word lists from the web or share your vocabulary with friends!
What our users are saying
---
" I've been using this app for four years now and have over 3000 words input into it. Was definitely worth every dollar, and helped me memorize all the words I was learning from conversations, class and books after I moved to France in 2016. The sorting feature by subject is great, as is the fact that the app works just as well on my phone as on my computer. "

— e.roscoe from the USA
" Wokabulary is far and away the best app that is available on the app store and is really the best vocabulary app I have used in general. And I have used several. "

— baileyjn from the USA
" Really helpful. I use it every day as a part of my routine, effortlessly learning a lot of vocabulary and improving my language skills, 100% recommendable "

— NatSrio from Spain
" If you are like me, and you like to build your own vocabilary database and learn a language fast, this tool is good for you. No extra bells and whistles, which is good. I like that it selects the keyboard layout of the language you are trying to learn (which can also be customised). "

— oliver_learn_swedish from Sweden
Alternative to Anki
---
Wokabulary is a native app with modern interface and features tailored for learning foreign language words.
The best alternative to Anki