Introducing Wokabulary 6 — The next generation of our flash card vocabulary learning app
By Anna —
🥁 We are thrilled to announce the launch of the newest version of Wokabulary!
This new version of Wokabulary is much more than an update. It is a complete rewrite and redesign of the app that we started in 2009. For almost two years, we have been working on a new design and new features. And we implemented many of the wishes and requests you have shared with us. With the all new Wokabulary 6, you can focus even more on what is so important when you are learning a new language: practice continuously and find your individual routine that helps you to stay focused and motivated.
Let's dive into the new features!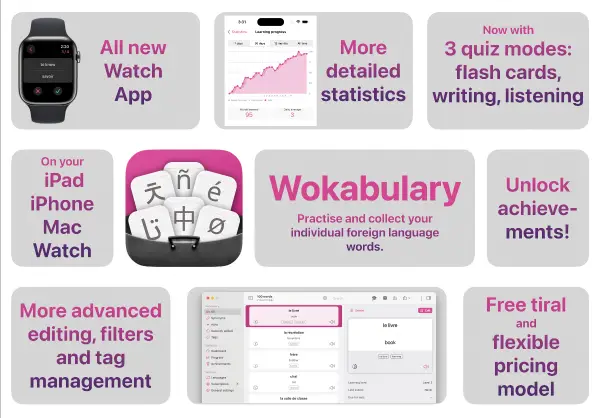 Enhanced user experience and interface
We understand the importance of an intuitive and user-friendly interface in creating an engaging learning environment. With our latest update, we have enhanced the app's user experience, making navigation smoother and more intuitive.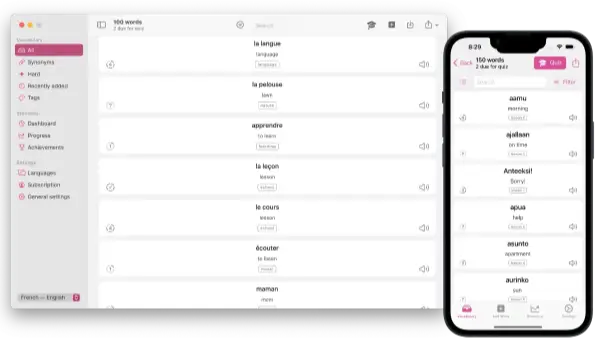 The improved interface ensures that you can focus on learning without any distractions, maximizing your concentration and learning success. We also profited a lot from the feedback we got as participants of the 2023 Apple Entrepreneur Camp.
More and better multi-platform support (Watch App!)
Wokabulary has always been available for Mac, iPhone, and iPad. However, these have been separate apps with platform-specific code bases and slight differences in available features and interface design. Wokabulary 6 has been completely rewritten using Apple's native cross-platform framework, SwiftUI. Now, Wokabulary not only runs on Mac, iPhone, iPad, and Apple Watch (!), it is, in fact, the very same app that runs on all your devices.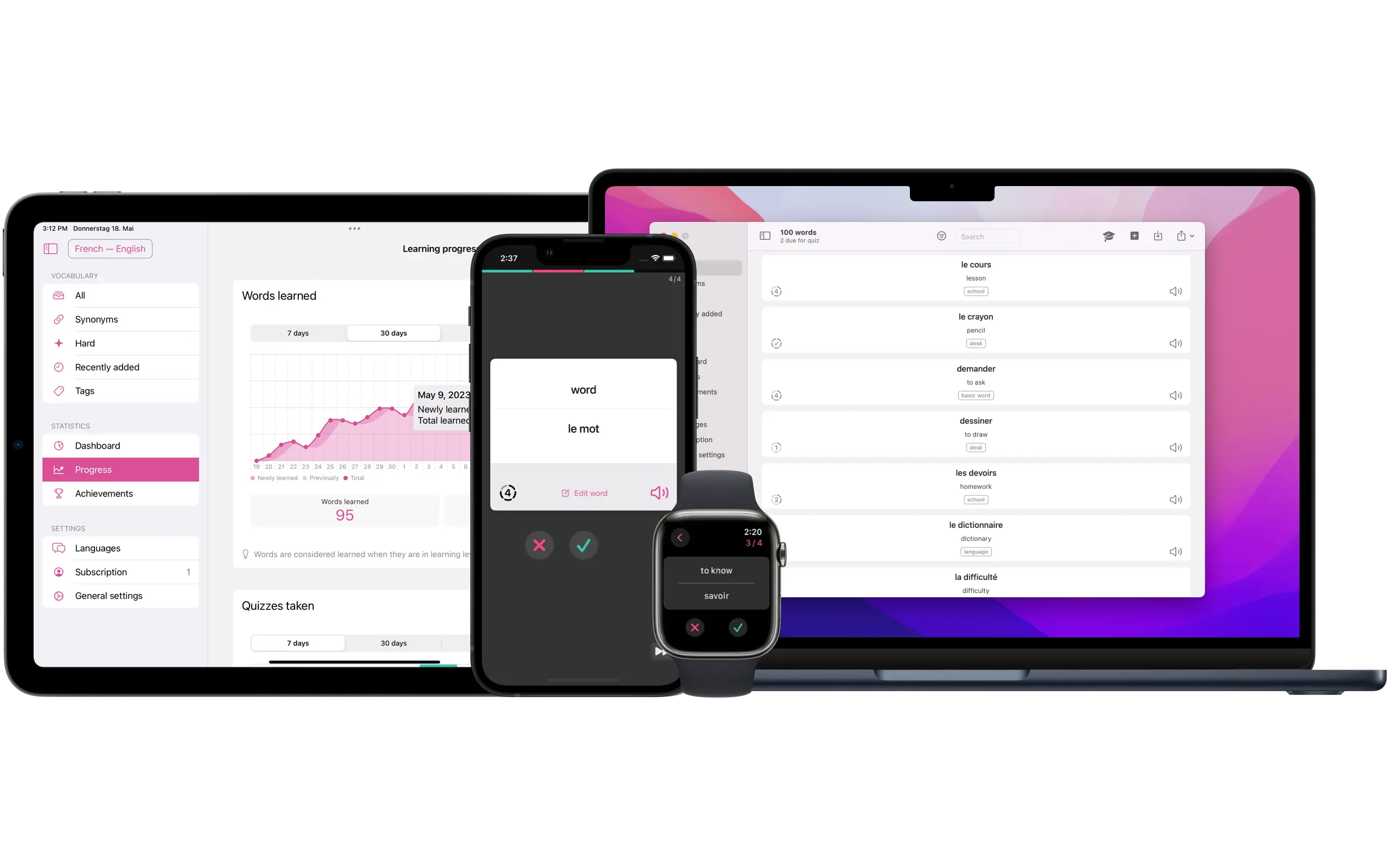 The result is a unified interface across all platforms, seamless data synchronization, and a single universal purchase. For example, you can now import word lists on your iMac at home, practice words on your iPhone on the train, add words on your iPad in class, and do a secret quiz on your Watch while in a meeting.
Powerful organization of your words
One of the key features of Wokabulary is helping you organize your personal vocabularies. Wokabulary 6 provides even more powerful tools to sort, search, filter, and review your words — while at the same time making it more streamlined and accessible.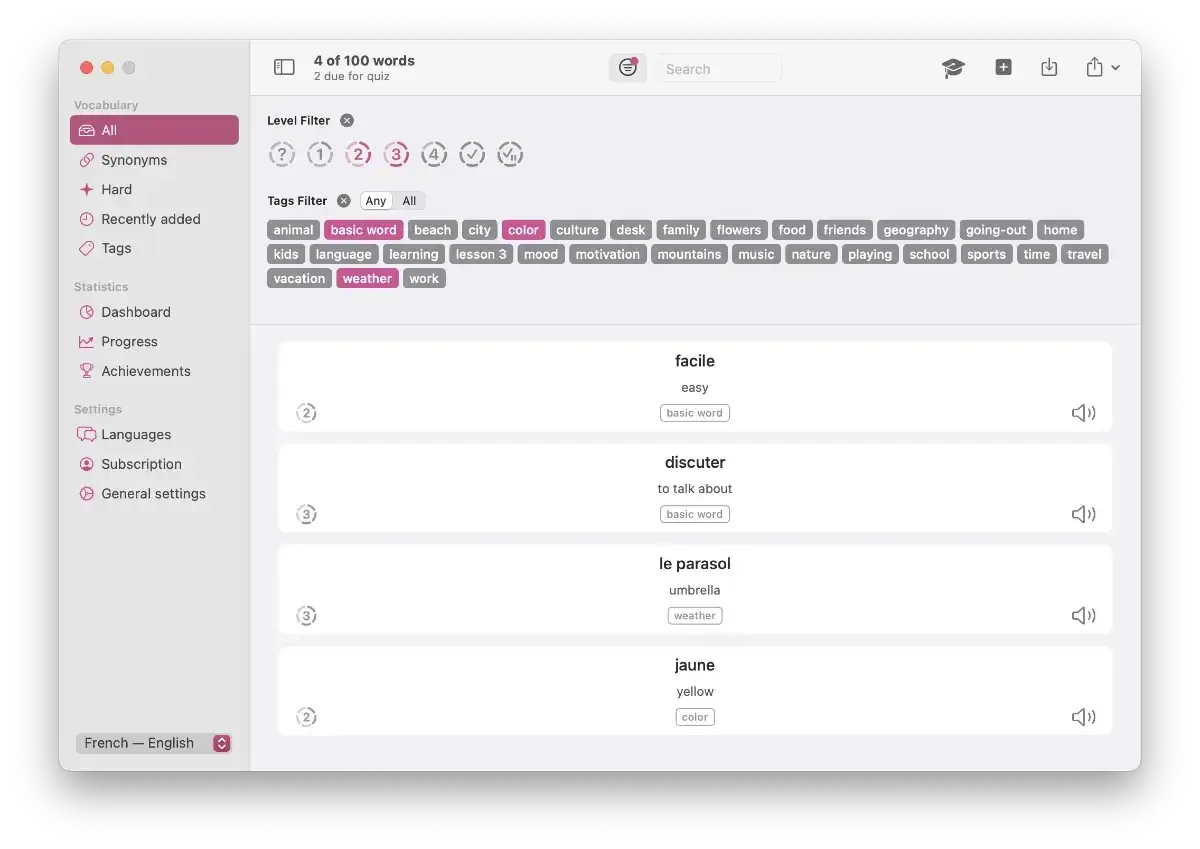 You can still easily filter your words by level and tags, but now you can also quickly review synonyms, see recently added words, and filter for particularly hard words. All with a single click and combinable with the regular search and filters. And to make managing tags easier and more efficient, a dedicated tag view lets you rename, delete, and even merge tags without any effort.
3 Quiz Modes for more flexibility
Wokabulary now offers three distinct quiz modes to cater to different learning preferences and goals. The classic flash card learning mode ensures you strengthen your vocabulary skills by presenting words and their meanings in a simple and intuitive way. Additionally, the listening quiz challenges you to sharpen your listening comprehension by hearing and identifying words. For those aiming to strengthen their writing skills, the typing quiz provides a way to practice spelling and composition, reinforcing your grasp of the language.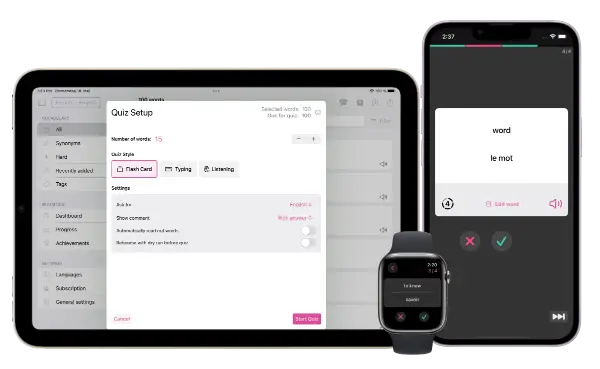 Detailed statistics and achievements to track your learning progress and keep you motivated
To help you monitor and measure your progress, we have introduced more comprehensive statistics that capture your performance across various quizzes and learning activities. You can now gain valuable insights into your strengths and areas for improvement, allowing you to tailor your study sessions accordingly. With this data-driven approach, you'll have a clear picture of your progress and language proficiency growth over time, enabling you to stay motivated and focused on achieving your language learning goals.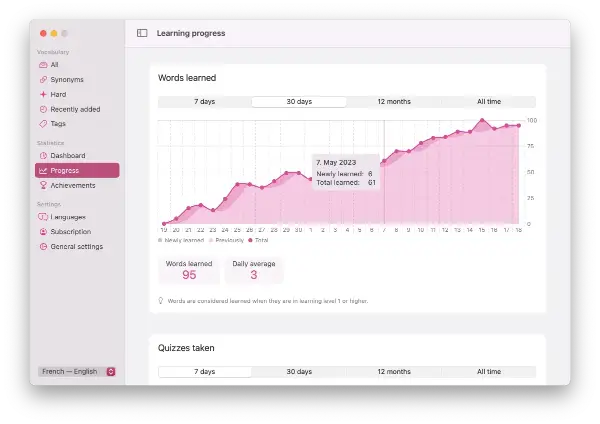 But learning should also be fun. In addition to the technical statistics, Wokabulary 6 offers playful learning challenges and rewards you with achievements for learning milestones and regular quizzes.
Migrate seamlessly
Wokabulary 6 is not only an update — It is a totally new app. And not only figuratively; Wokabulary 6 is a separate app that you need to download manually from the App Store. However, if you have been using Wokabulary 5 so far, your data will automatically be migrated to Wokabulary 6 when you first launch it. We think Wokabulary 6 is a huge jump, and we think once you've tried it, you will never want to go back.
Save up to 55%!
In addition, all customers of Wokabulary 5 will receive a discount of over 55% on their first annual subscription of Wokabulary 6. And all new customers can benefit from a 30% introductory offer until the end of July 2023.
In case you don't like the new Wokabulary 6, please let us know how we can improve it further. And don't worry, you can still keep using Wokabulary 5 just like before.