Tips and tricks how to use Wokabulary most efficiently
By Anna —
Getting the most out of Wokabulary
With its three quiz modes, detailed statistics and advanced filters, Wokabulary is the best app to build up your own foreign language vocabulary according to your individual progress and needs.
But there are quite a few smaller and lesser-known features that can be very useful in your daily language learning practice. In this article, we want to highlight some powerful tricks you probably did not know Wokabulary can do.
Look up translations using the built-in dictionary
Apple includes free dictionaries on macOS, iOS, and iPadOS. This includes bilingual English dictionaries for Spanish, French, German, Italian, Dutch, Korean, Japanese, Chinese, and many more languages. As well as several monolingual dictionaries and thesaurus. These are all high-quality professional dictionaries from renowned publishers like Oxford, Pons, Duden, or Larousse — completely free and available offline.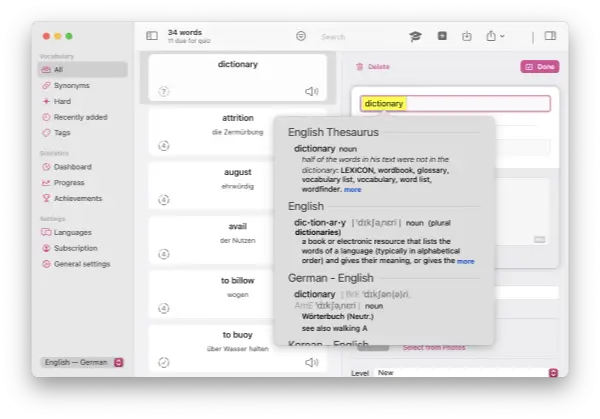 You can look up a word directly from within Wokabulary
On the Mac, by performing a force touch or three-finger-touch on it. (You might need to activate this feature in System Settings > Touchpad).
On your iPhone or iPad, by selecting a word and then choosing Look Up from the action menu.
By default, only a few dictionaries are activated, so you might need to first download the dictionary you need. Our support article shows how to activate additional dictionaries on your Mac or iPhone
Speed up the flashcard quiz using keyboard shortcuts
You can use keyboard shortcuts in the flashcard quiz to indicate whether you were correct or wrong.
First, tap Return to show the translation.
Then:
Tap Return if you were correct.
Tap Space if you were wrong.
Change or improve the voice for speech output
The speech output in the Quiz uses the default system voice for the selected language. macOS and iOS come with pre-installed voices for all languages.
However, in the system settings you can install high definition versions of those voices and also download different voices. For some languages, you can also install different local accents. For example, you can install voices for Australian English, Canadian French, or Brazilian Portuguese (among others).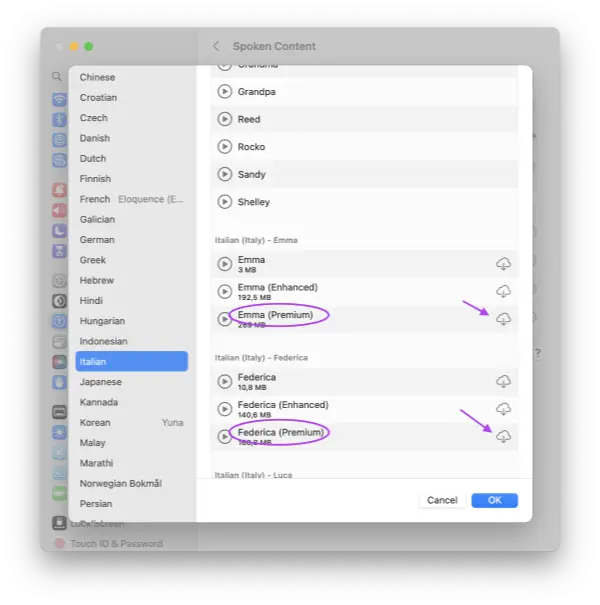 On macOS you can manage your voices on System Settings > Accessibility > Speech > System Voice > Manage Voices…
On iPhone and iPad you can manage your voices on System Settings > Accessibility > Spoken Content > Voices…
Be sure to download voices in high quality – see here how you do it.
Import CSV lists with words
Wokabulary makes it easy to import word lists you downloaded from the Internet. Just click the Import button in the toolbar and select a CSV file. Wokabulary will open and show you a preview of how the words will be imported. Make sure the languages are assigned correctly to the columns.
To get you started, we have begun building up a database of cross-language basic word lists! The CSV word lists contain the most basic and useful words to get around – all together, 203 words and phrases.
These free word lists are available in English, German, French, Spanish, Korean, Finnish, and Slovak.
We provide the word lists for any combination of these languages — with more to follow.
Exchange words with your friends
With Wokabulary's flexible import and export functionality, sharing words with your friends, family, or classmates is quick and easy.
Just filter or search for the words you want to share. Then tap the Export button in the toolbar and select Share words.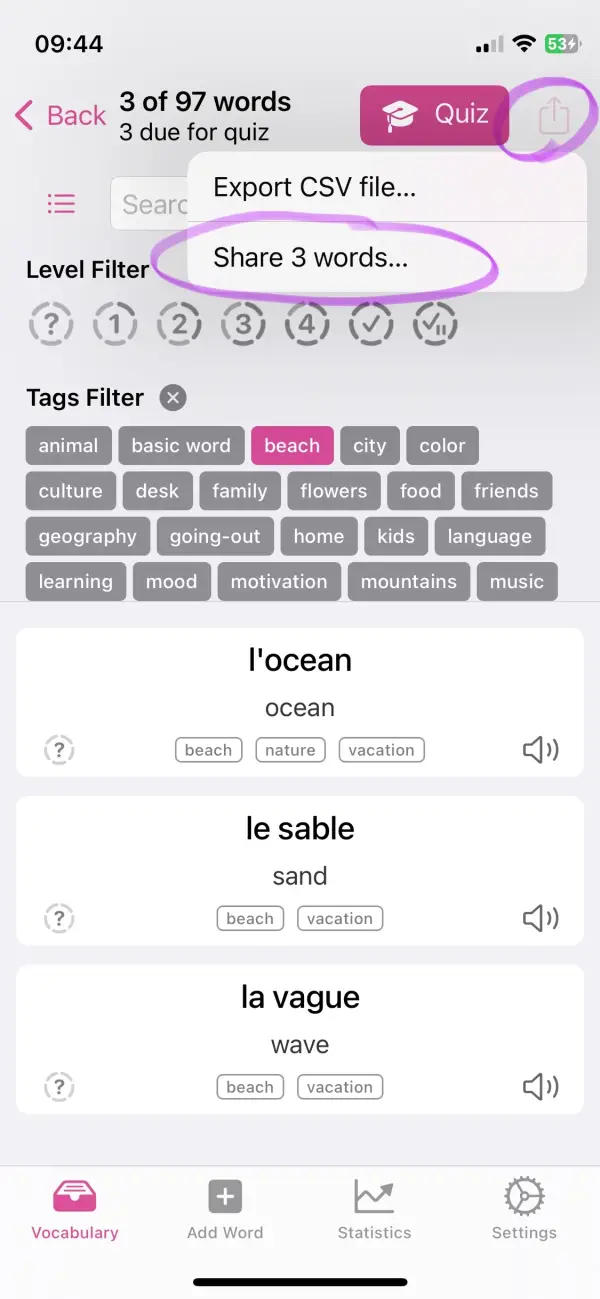 The fastest and easiest way to send your words to a friend is using AirDrop. But of course you can also share your words on your favorite messenger or any other channel.
The recipient can directly open the received word list in Wokabulary. And after reviewing the words, they can add them to their vocabulary with just one click.
Focus on learning your words
By using the functionalities Wokabulary offers, you can focus on the most important thing: learning and practicing the words.
And don't forget to take a look at our support page for more tips and tricks or reach out to us if you do want to know more about certain functions or need advice.
If you are missing a feature, propose it in our feedback board or vote for features other users have suggested!